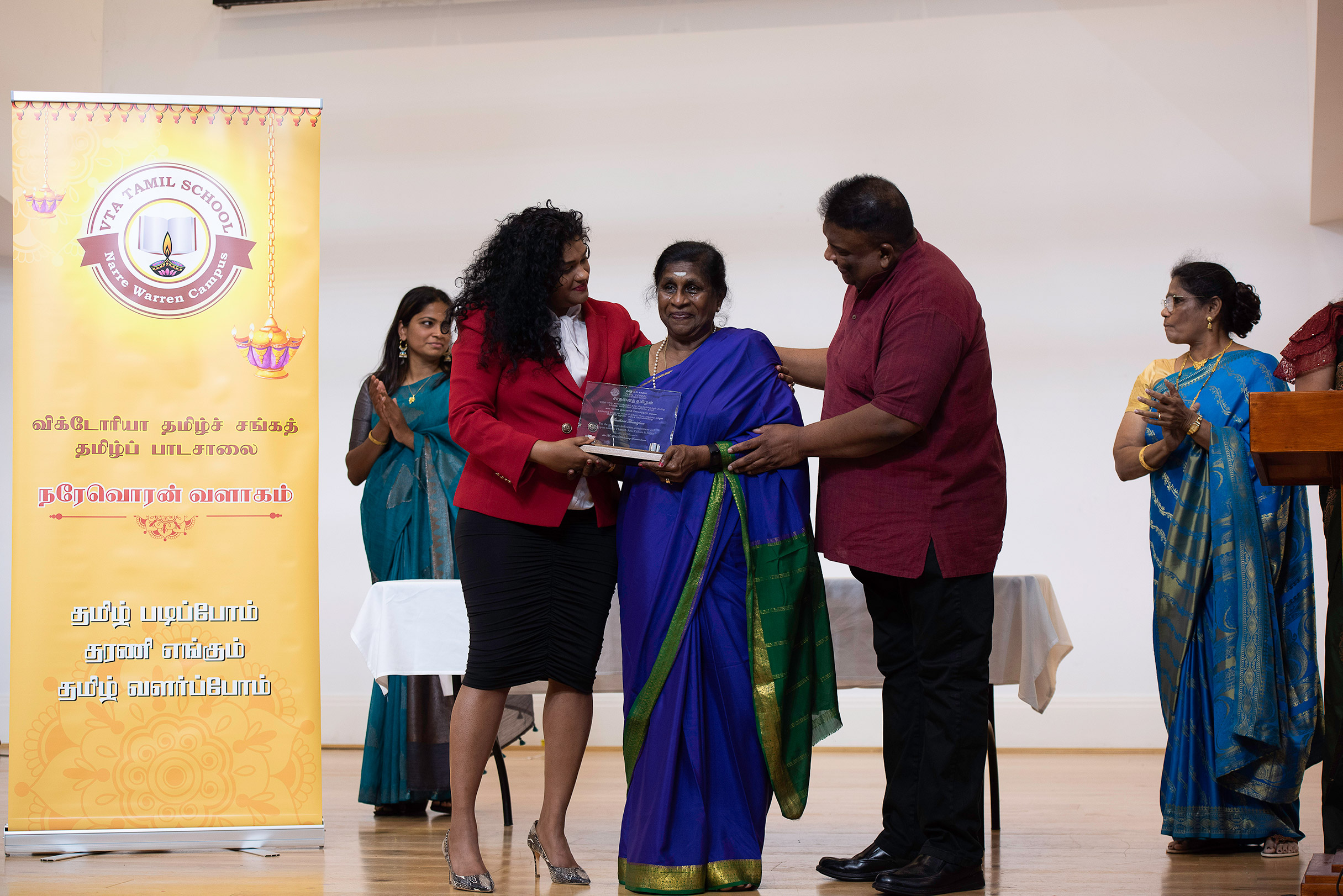 The Saathanai Thamizhan award presented by our Tamil School is awarded to a member of the Tamil community who had made a significant contribution to promoting Tamil culture and language within the wider community. This award recognizes the efforts of individuals who had dedicated their time and energy to preserving and celebrating Tamil culture, and this year it was awarded to Late Mr Soma Kumarasamy Somasundaram. We presented this award with great pride and joy at our Tamil School Award Ceremony.
Late Mr Soma Kumarasamy Somasundaram was a man who sincerely valued his motherland, mother tongue and culture. He believed that regardless our religion, we are one. He respected all cultures. He helped Christian/Catholic communities grow and formed many temples.
Late Mr Soma Kumarasamy Somasundaram devoted his life to helping and uplifting the lives and spirits of the Eelam people affected by the war. He represented the Eelam people at a conference at the Melbourne University in 2006. He was also, one of the founders of the Australian Medical Aid Foundation (AMAF) and started the Sri Lanka Club, Victoria. He also eagerly worked with the Victorian Tamil Association (VTA) since its early stages.
Late Mr Soma Kumarasamy Somasundaram did not only represent Eelam Tamil people, but all Tamizhans. He was one of the founders of Tamil Educational Cutural & Charitable Association Inc. (TECCA) and was the Hon. Secretary Founder of the Australasian Federation of Tamil Associates (AFTA). He was also, one of the few who helped Tamil radio stations such as 3CR, 3ZZZ and SBS.
Late Mr Soma Kumarasamy Somasundaram's perseverance and hard work was instrumental in the inclusion of the Tamil Language as a subject in the Victorian Certificate of Education (VCE). He even helped VCE Tamil students to study well for the exam, despite the many barriers they faced.
After all of his achievements, Late Mr Soma Kumarasamy Somasundaram will continue to serve as an inspiration for our Tamil community members. We are thrilled to see our community continue to flourish because of wonderful people like him.